So I didn't get admitted to the hospital on Wednesday and I'm still not sure why since the same doc had given me the option a week before. My cervix has shortened even more and is now measuring 1.3cm. I saw one of the tech's other measurements as 0.7 but they didn't choose to use that one for some reason (I thought they were always supposed to use the shortest measurement... ?)
I've been trying to take it extra easy since then but it has been really hard with Margaret.
I have an OB appointment this morning at 10:25am and he is going to do fetal fibronectin testing on me.
http://www.marchofdimes.com/professionals/681_1149.asp
Hoping for that negative test result!!! If it is positive, I'm pretty sure I will get admitted today for the steroid shots. But now I'm not so sure. The doctor might change his mind again... grr.
On a cute note, Margaret was watching Sesame Street Wednesday morning and when The Count came on, she started squealing and laughing. She then scooted over to her bat costume and brought me the bat hat to put on her. I could die from the cute.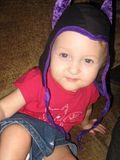 Well, I'm off. Wish me luck!!!!