Seriously, I started this on June 22 and am now posting on July 13...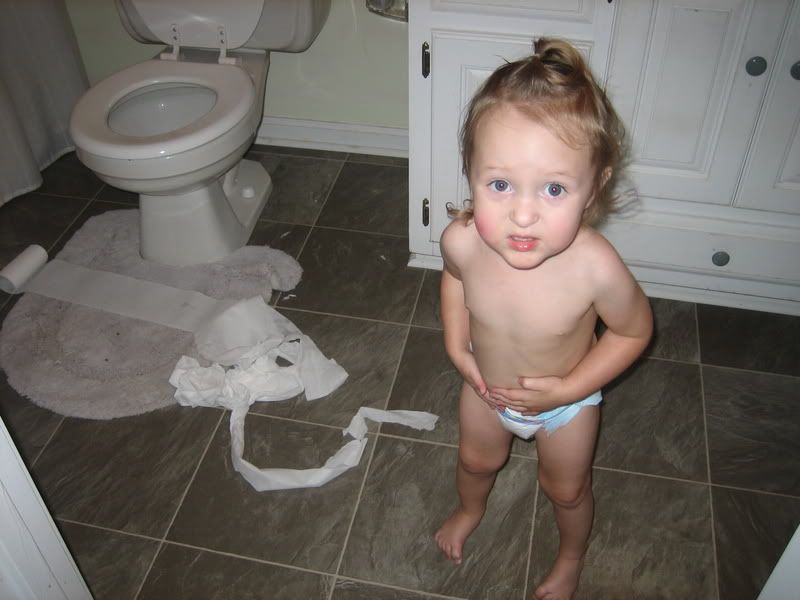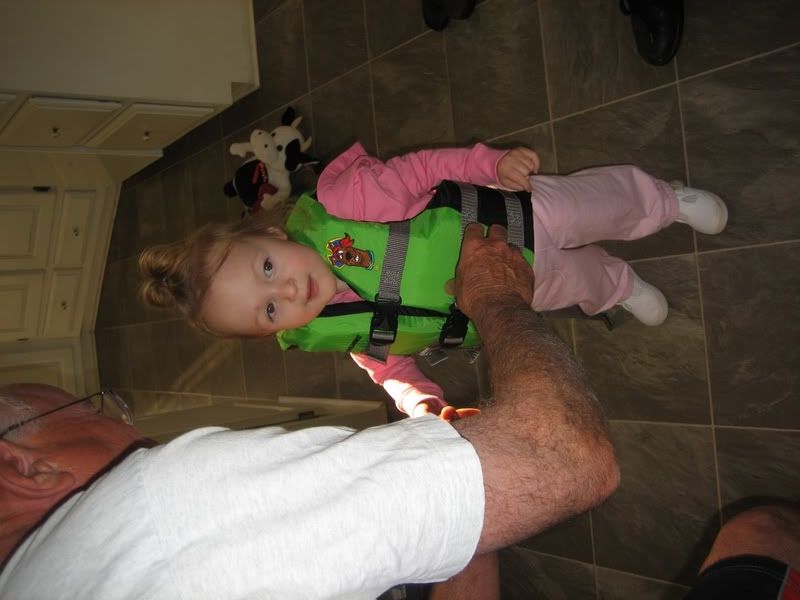 Things are going well here at Mom's. I think it is safe to say that the kids (esp. William) love their Grandma. My brother Jason has fallen for William while Margaret has captured the heart of my brother Nick (also a preemie). Of course, my Sis loves them both but I think a little girl is what she is after. Both babies have gotten to meet their paternal Granddad, Aunts and Uncles, Great Granny ("Big Granny"), Great Aunt Vicki, and Great Uncle Richard. There are lots of cuddles and kisses, holding, and gifts for both. Margaret even got to go on a boat trip with GU Richard and Big Granny! She looked so cute in her life jacket! She also had her first trip to the pool which was big fun!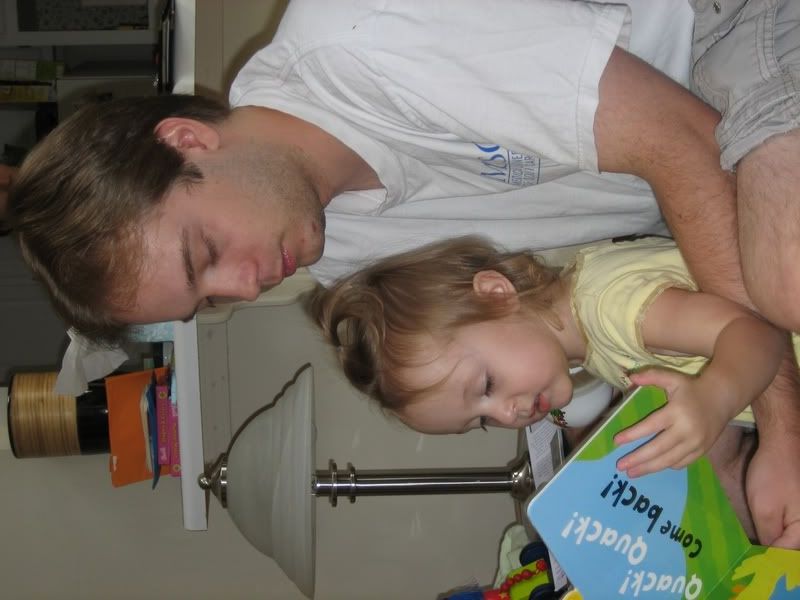 Little Margaret has really blossomed this summer. She has started talking instead of pointing and grunting. And she is trying her best to run and jump. Lots of practice is needed, however. She is so much fun!
The name of her game, however, is mischief- catfood eating, potted plant digging, fireplace crawling, brother smacking, toilet paper eating mischief. She is certainly age appropriate and testing her limits. I will tell her "no" and she will continue to do whatever it is that she was doing, only more slowly and while keeping an eye on me. Sometimes it is really hard not to laugh. And then there is the food smearing. Food is meant to be worn, not eaten. She has taken to "running" whenever I say it is time to eat. I guess she isn't going to be plump any time soon.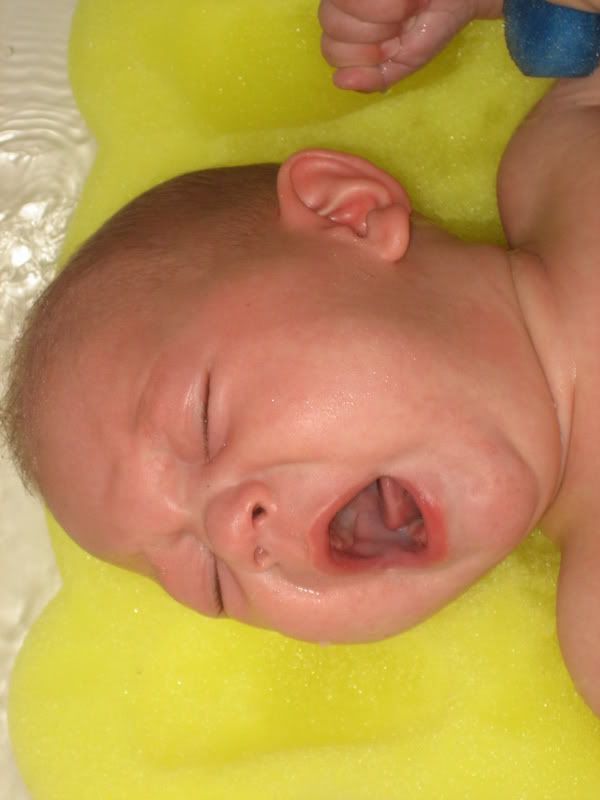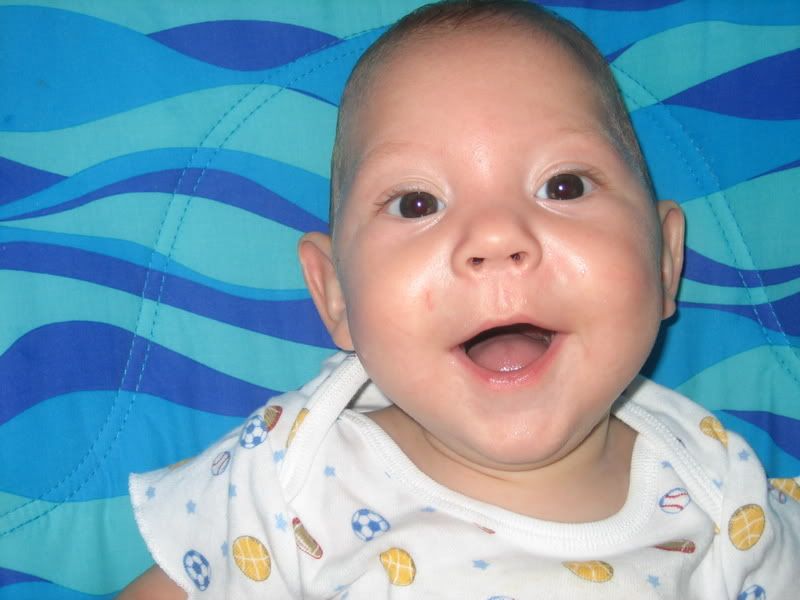 William has finally started to calm a bit. I can now put him on his play gym and he will happily play for 10-15 minutes. Glorious for eating breakfast or prying Margaret off some dangerous object. He is sleeping through the night, too! This throws me off because Margaret didn't sleep through until she was 18 months or so. I don't know how much he weighs or his length but I can tell you that his head circumference has increased by 3.5 cm since his last neuro appointment. This is good news... just right. Not so much to imply hydrocephalus or too little to suggest microcephaly. William has also become more social with smiles and coos for everybody! He is so cute.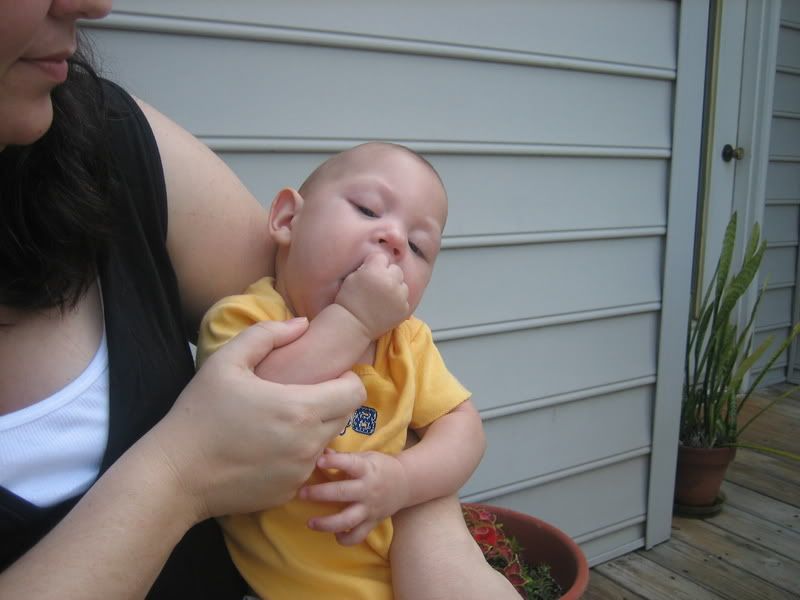 Motor wise, things remain static with William. Not much head control, has trouble getting hands to midline, nowhere close to working on sitting. He seems to be very hypotonic in his trunk and neck and very stiff in the legs and arms. Arms are a bit stiffer than his legs, even. I understand that his seizure med, Keppra (yeah, he was having seizures afterall), can have the side effect of muscle weakness so I don't know if that is contributing to his trunk/neck floppiness. His favorite thing to do is eat his fist and I want him to be able to do this on his own!!! He works so hard at it and my heart breaks when he cries in frustration because he just can't get his hand in there on his own.
I am also doing better. For those of you who don't know, I have been suffering a quite severe bout of Post Partum Depression with a little bit of Post Partum Anxiety Disorder thrown in to round things out. I had started seeing a Social Worker who immediately sent me to a Psychiatrist. Well, the "screening" and waiting list for an appointment was over two months long. So I am still waiting to get in. But I'm feeling better, meds are starting to work, and I am headed home soon.
BTW, as of two days ago, my actual age is 4-0. My adjusted age remains 28.
If you stuck around this long and are checking on us, thank you!!!