Let's just leave it as Margaret doesn't do well when she comes out of anesthesia. They told us to expect her to be "fussy" for half an hour after they placed her tubes. Not our girl, she was
hysterical
for close to two hours. She refused to eat (even though she hadn't eaten in nine hours) and then just kind of "passed out" from crying so much.
When she woke up, she was still a little upset so I gave her another dose of Tylenol and a bottle. Margaret calmed down enough to cuddle with me on the floor while watching Monsters, Inc. for a good chunk of the afternoon.
Monkey girl must be feeling pretty good now, though, because she is orchestrating the room while shouting. She should be sleeping. I should be sleeping.
Margaret in her first hospital gown (before surgery):
After surgery... very upset baby: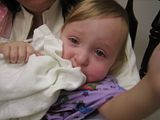 William and Daddy (for good measure):